Testarossa Winery is Serious About Its Soils
Tuesday October 2, 2012 by Ryan Fernandez
Testarossa Winery showcases its soils in its tasting room to stress the importance of all parts of the winemaking process.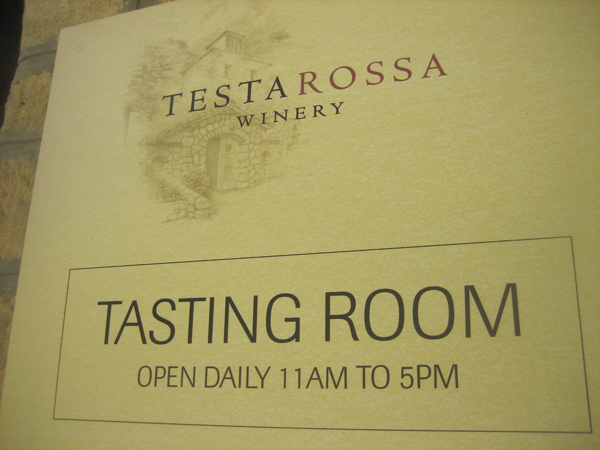 Just up the street from downtown Los Gatos, California is the 124-year old Jesuit Novitiate (pronounced "no-vish-ut") winery. Testarossa Winery has been using the three-floor, gravity-flow winery since 1996.
We dropped by the tasting room on a bright and hot late summer day, where they had not only wines but samples of their soil from their different vinyards. Testarossa partners with more than a dozen California vineyards, each producing a different kind of wine. Even the earliest French winemakers believed that soil, through such factors as drainage and root structure support, had influence over the amount of minerals and nutrients to which a vine is exposed.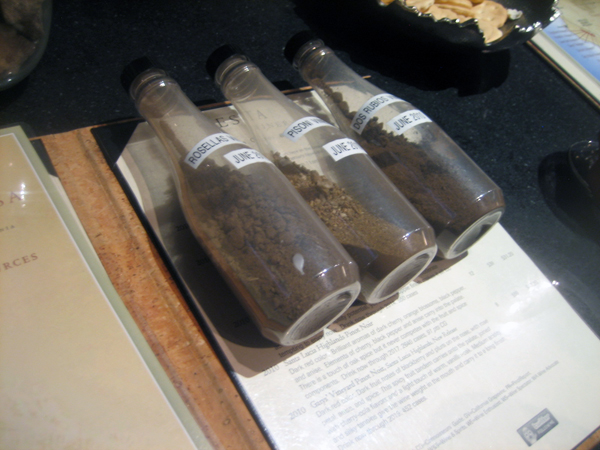 Here is one soil sample from the Pisoni Vinyard.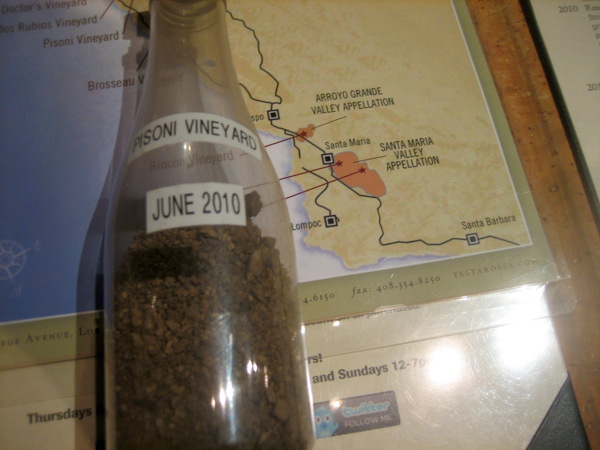 For a more throrough explanation of their winemaking process, stop by Testarossa next time you're in NorCal!
---
---
---
MenuGem Featured Stories
•
Hundreds of Items
•
More Cards, More Clothes
•
Cards and Clothes
•
Card Breaks on MenuGem
•
Jeans and Masks
•
The MenuGem Standard Mask - Discover What's Next S02E01
•
Shop with Confidence
•
What You Need
•
Rest Assured: Hand Sanitizer, Masks and More
•
MenuGem in Illinois Times and on WMAY
•
New Products on MenuGem Springfield and The MenuGem Web Store
•
Introducing MenuGem Springfield!
•
We're Here for You
•
How to Earn Gems on MenuGem
•
Online Ordering in Chicago
•
Express Yourself
•
How to Set Up Online Ordering for Your Restaurant
•
Order from Baba Pita!
•
Beverly Hills, De-Mystified: Scarpetta
•
Tastes of Tokyo: Roku-Michi in Roppongi Hills
•
Post Up
•
Sushi Gen Stays Above the Cut
•
Rustic Italian Meets Hipster Chic at Reno Chicago
•
A Quick Bite at Firenze Osteria
•
Testarossa Winery is Serious About Its Soils
•
5 Years of Craft Los Angeles
•
Surf and Turf for Lunch at Wakasaya
•
Reforming Danishes at Amandine Patisserie
•
America's Playground
•
Soup Street
•
LA's Finest
•
City Sultan
•
Through the Fog
•
Osaka Soul
•
Pad Se Ew Showdown