What is MenuGem?
MenuGem® is an e-commerce platform for restaurants and small businesses.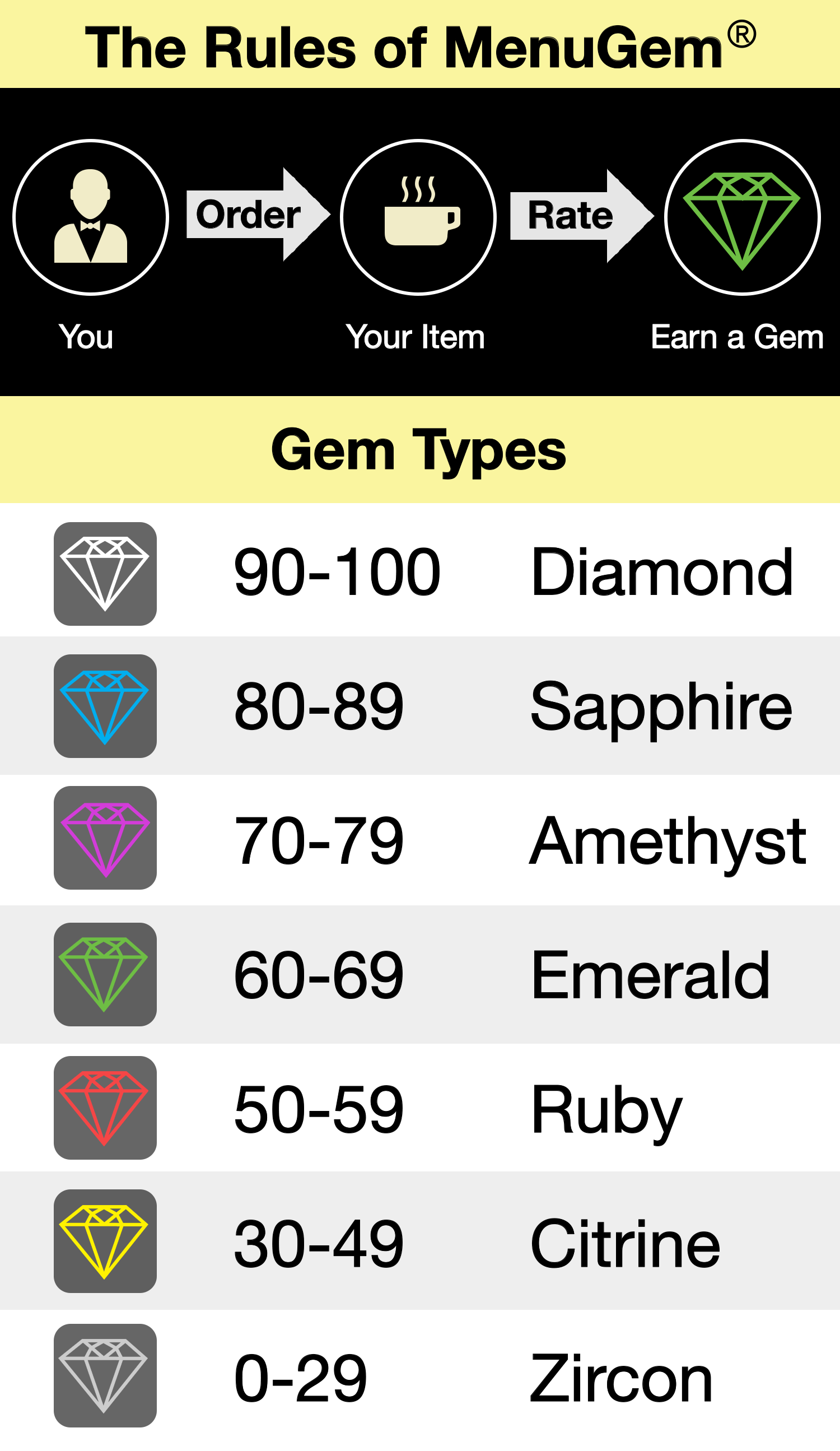 Prove Your Foodiness
Order your favorite items from MenuGem.
Mine the Gem
Rate every item in your order, down to the beverage.
Rate your item from 1-100.
Share your thoughts. Tell the world about your experience.
Post a photo!*
Ratings are averaged and items earn a gem level based on their rating.
*We curate our own Item images, but we may choose your photo as the main item image. if so, we'll credit you and notify you.
Move Up in the Rankings

Collect Gems on your profile page.
Keep track of Wants and Likes in My Account.
Sell on MenuGem
Watch "How to Set Up Online Ordering for Your Restaurant" on YouTube: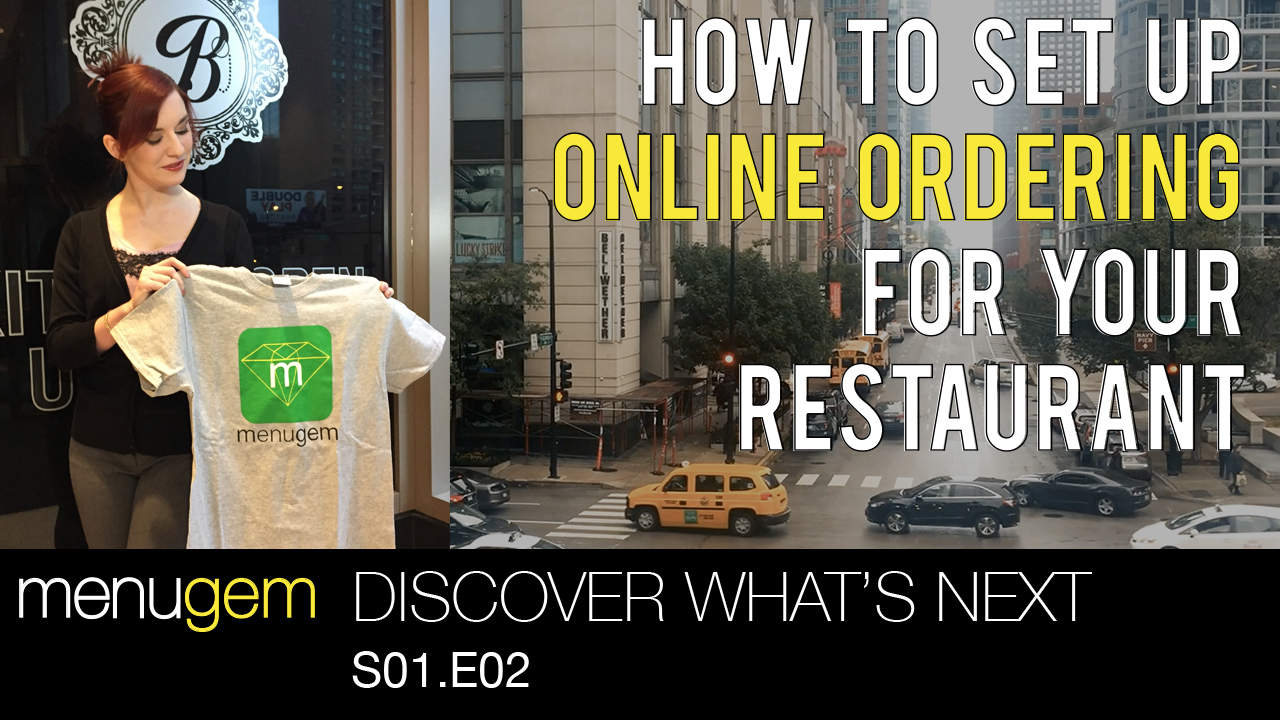 Build Your Business Profile
Build your business profile on MenuGem complete with location and product information. Manage your products using MenuGem Merchant Tools, your "control panel" on menugem.com that's accessible from any web browser!
SEE THE DEMO: View a sample restaurant profile page
Or Work with Us for a Customized Experience
MenuGem designs and builds websites for all kinds of businesses. Check out our Sites and Shops page and request a quote today!
How to Get Started
Register for MenuGem and List Your Business in Our Worldwide Directory
Registration takes a matter of seconds.
It's Fast, Easy, and FREE
Listing your businesses with MenuGem® is free.
Enter Your Menus
Fill in your menus — or just enter as much information as you can. We will follow up with you in a few days to make sure your menu is complete and your MenuGem profile is looking beautiful.
Online Ordering. $0 per month
MenuGem provides online ordering services with no set-up costs and no monthly charge.
What? How is this possible?
MenuGem facilitates online ordering services by charging a service fee per order. Your business may choose to bill the fee to your customer (the person ordering the food), to your business, or split it between the customer and your business.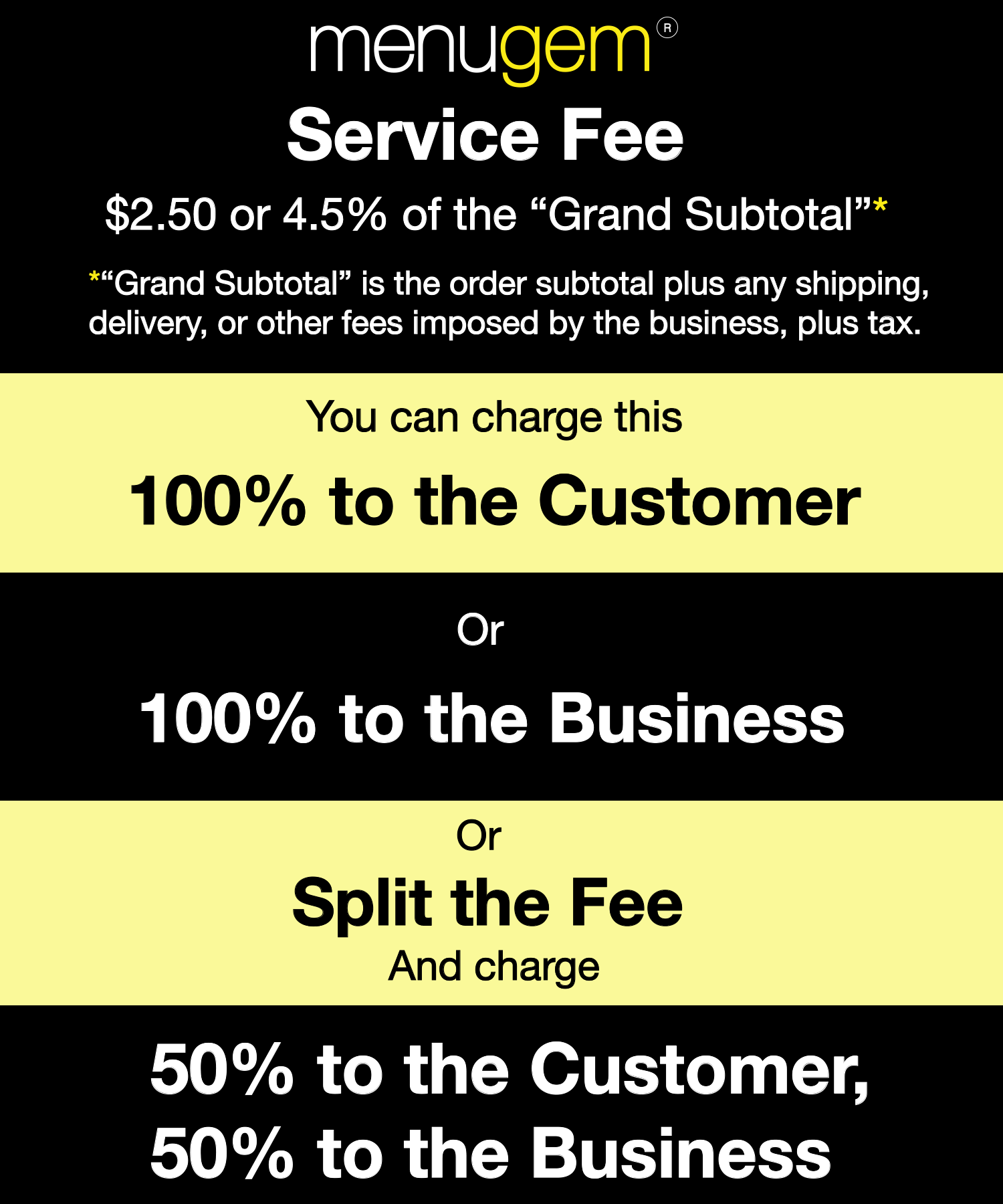 Any time, Anywhere
MenuGem can accommodate for any world currency, and operates in every time zone in the world.
Fill Out The MenuGem® Ordering Agreement
Decide how to receive orders and how you would like to pay for the service fee in the MenuGem Ordering Agreement.
We Process the Transaction
Take payments via Visa, Master Card, American Express, Discover and PayPal. We are an official merchant with both Authorize.net and Paypal and we are PCI DSS compliant. All transactions are encrypted with up to 256-bit SSL encryption through https.
Payments Made Weekly
Payment is sent weekly by ACH transfer (fees may apply). A summary of orders for the past week is emailed to the business when payment is made.
Take Orders from All These Places:
Your MenuGem Profile Page
Your profile page on MenuGem is your central location for all your menus and business information. Your menu will be published here on the MenuGem website, with your own unique web address (for example, menugem.com/jaffabagels).
Mobile Phones and Tablets
MenuGem® works in all mobile browsers. MenuGem menus look great on phones and tablets!
Your Website
Add a link to your MenuGem® page and your customers can access your menus from your website. If you wish to integrate your menus directly into your website, our team will work with you to provide customized code to use on your website.
Put MenuGem On Your Phone Home Screen
---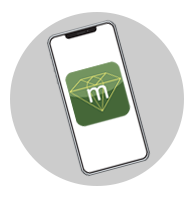 On iPhone and iPad
Open Safari
View www.menugem.com in Safari
On the top of the Safari window, tap the icon of the arrow coming out of the box:
Tap "Add to Home Screen"
Tap "Add"
On Android Phones and Tablets
Open Chrome
View www.menugem.com in Chrome
Tap the menu icon (three dots icon)
Tap "Add to Home Screen"