Friday May 15, 2020 by Ryan Fernandez
Watch "Rest Assured: Hand Sanitizer, Masks and More - Discover What's Next S01.E08" on YouTube: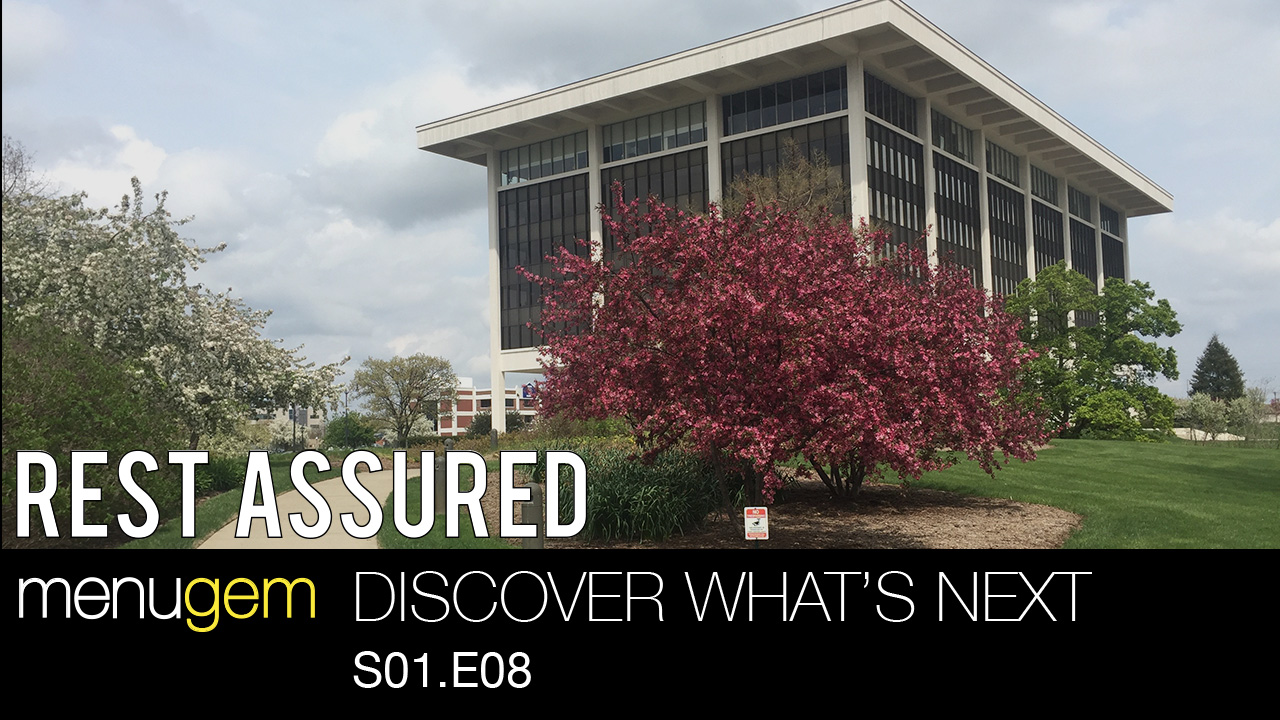 Hi everyone, I'm Ryan Fernandez, founder and CEO of MenuGem, and we're back this week with some new products for sale on MenuGem Springfield and the MenuGem Web Store. Last month, we launched MenuGem Springfield, a new service offering same-day Grocery and General Merchandise Delivery to Springfield, IL and the surrounding areas.
Stream the MenuGem Interview on WMAY News Talk Radio 94.7FM & 970AM
After you place your order food items are sourced from local grocery stores, just as if you would have gone to the store yourself at that time. Rest assured your food is bought fresh after you order. Non-food items may be kept in our in-stock inventory. This way, we can ensure the product is in-stock.
Rest assured, if you see a quantity available, it's available. If you can add an item to the cart, rest assured you can buy it. When we combine with our on demand inventory with our in stock inventory, it's like shopping at a whole new store.
This week we've added these products.
Small DoubleDare Bye Bye Germs OMG Hand Sanitizer Gel 1.7Oz 50 mL
DoubleDare Spa Bye! Bye! Germs OMG Hand Sanitizer Gel 8.33 Oz
Jointown Disposable Face Masks
80s Stars Lot 1
Ricky Hernderson Lot 1
Batman Bronze to Modern Lot 1
ASM Bronze to Modern Age Lot 1
Don't live in Springfield? Check menugem.com/webstore for some of the same products.
MenuGem works great for all kinds of businesses. If your business has something to sell for pick-up or delivery, we'll help you navigate this current climate All users should register at www.menugem.com
---
Thursday May 7, 2020 by Ryan Fernandez
MenuGem (also stylized as Menu Gem and also known as Menu Gem) has been featured by a few Springfield, Illinois media outlets.
See the MenuGem news article in The Illinois Times
"Ryan Fernandez's venture is likely the newest option in the Springfield market. He lived in Springfield and graduated from Rochester High School before spending time in Chicago and L.A. He founded MenuGem, an online platform for restaurants to coordinate delivery services." -Rachel Otwell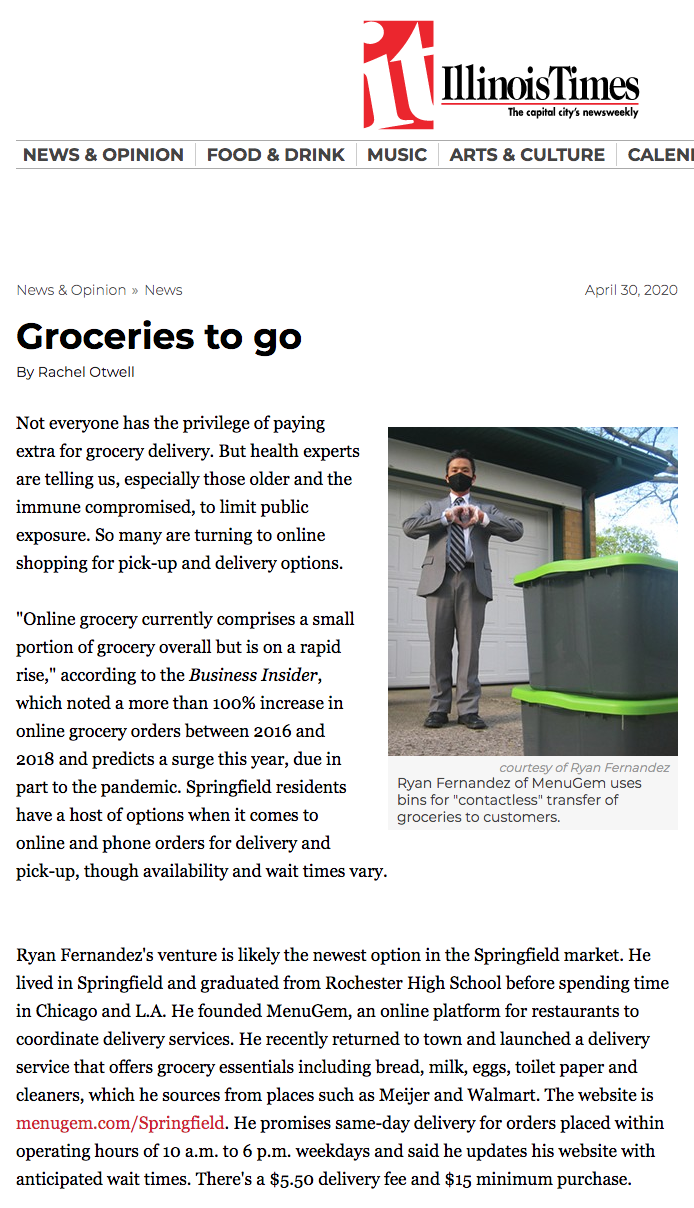 Stream the MenuGem Interview on WMAY News Talk Radio 94.7FM & 970AM
"It helps other people then find the most popular items, and the ones that have really appealed to people, so that's another great shopping tool for them." -Jim Leach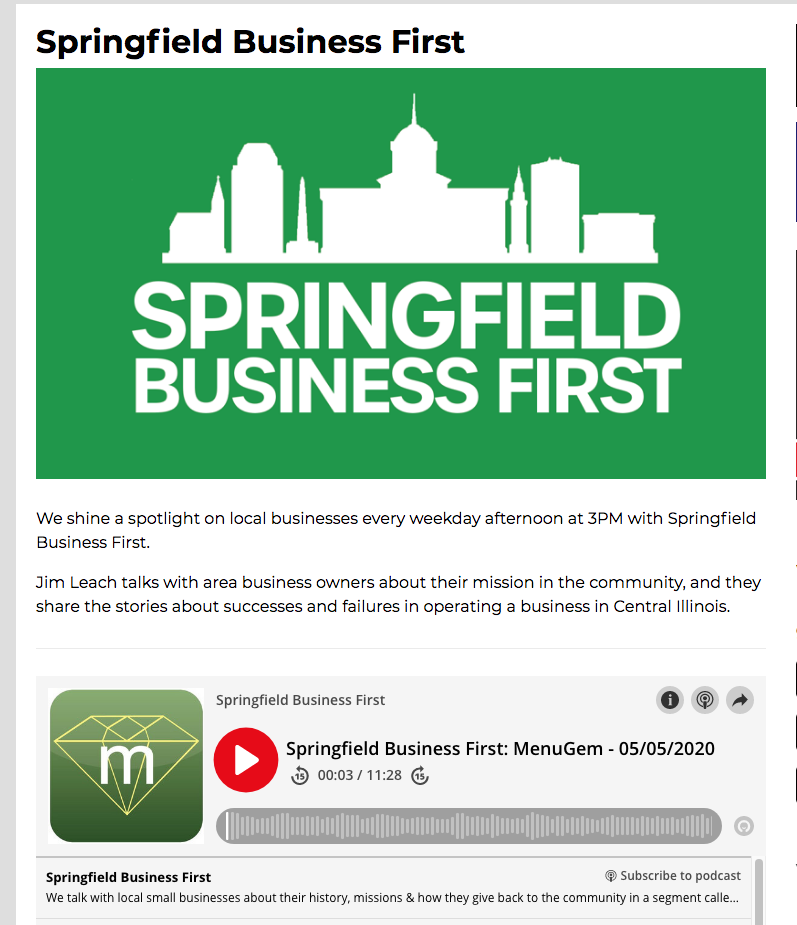 ---
---
---
MenuGem Featured Stories
•
Rest Assured: Hand Sanitizer, Masks and More
•
MenuGem in Illinois Times and on WMAY
•
New Products on MenuGem Springfield and The MenuGem Web Store
•
Introducing MenuGem Springfield!
•
We're Here for You
•
How to Earn Gems on MenuGem
•
Online Ordering in Chicago
•
Express Yourself
•
How to Set Up Online Ordering for Your Restaurant
•
Order from Bellwether Meeting House and Eatery!
•
Order from Baba Pita!
•
Order from Jaffa Bagels!
•
Beverly Hills, De-Mystified: Scarpetta
•
Tastes of Tokyo: Roku-Michi in Roppongi Hills
•
Post Up
•
Sushi Gen Stays Above the Cut
•
Rustic Italian Meets Hipster Chic at Reno Chicago
•
A Quick Bite at Firenze Osteria
•
Testarossa Winery is Serious About Its Soils
•
5 Years of Craft Los Angeles
•
Surf and Turf for Lunch at Wakasaya
•
Reforming Danishes at Amandine Patisserie
•
America's Playground
•
Soup Street
•
LA's Finest
•
City Sultan
•
Through the Fog
•
Osaka Soul
•
Pad Se Ew Showdown