Surf and Turf for Lunch at Wakasaya
Wednesday August 8, 2012 by Tsz Chan
When I try something I like, I can eat it everyday until I get sick from it—figuratively (and in some cases, literally). For example, the first time I experienced melted brie on toast with truffle honey and almonds, it turned into a two-week obsession. My co-workers can attest to this as the office would smell like truffles during lunch... every day. Sorry!
So , it's quite fortunate that Wakasaya is quite a ways from where I live as lately I've been obsessed with their seared salmon don. Picture a bowl of hot, sticky rice, layered with a shelter of crispy nori, on which slices of fatty salmon rest after getting a smoky kiss by a blowtorch. End result is like the fish version of Two Face, one side charred while the other is is pristine and raw—not sinister by any means, but deliciously addicting.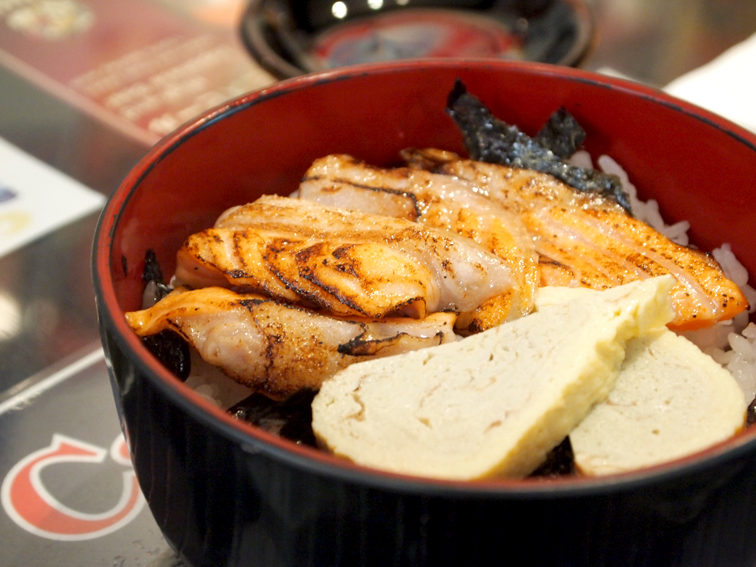 The best part is that when you go for lunch, you can get this as part of the lunch special, which comes with a second entree and a drink. For a little surf and turf action, I like to pair the seared salmon bowl with some niku udon. Plump udon noodles, beefy soy broth, a generous helping of beef, caramelized onions and fresh shredded scallions—the Japanese equivalent of pho. That and a frosty glass of ice tea and I'm heading towards a much welcomed mid-day food coma.
If you're a big eater, or dining with a friend...or both, I would recommend an extra order of takoyaki on the side. For the uninitiated, they're these crispy balls of umami and texture-filled brilliance.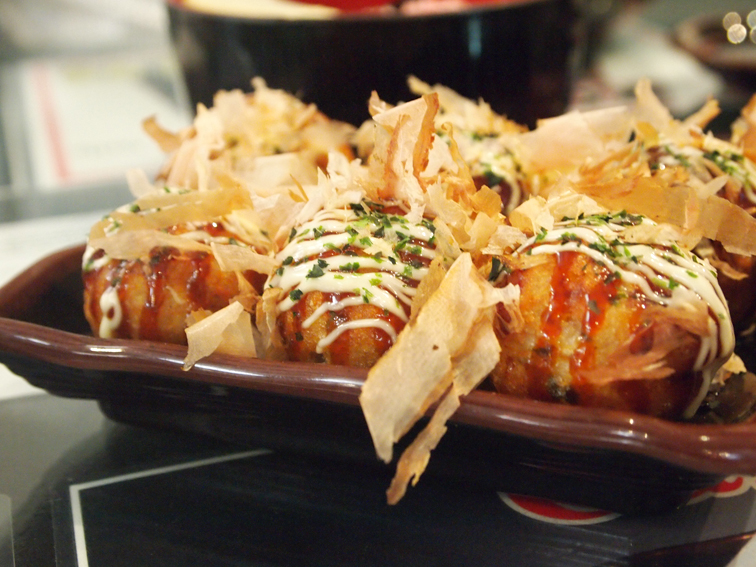 Octopus and tempura bits are enrobed in a pudding-soft wheat batter and cooked so a thin crispy crust forms that holds the molten mass together. They're then lined up in rows, then lacquered with a sweet, savory sauce and lines of Japanese mayo. If that wasn't enough, there's a sprinkling of dried nori and a mound of bonito flakes that seems to "move" as it comes into contact with the sauce. It's simply out of this world.
If you're ever in the area, give Wakasaya a chance!
Wakasaya — Little Tokyo 104 Japanese Village Plaza Mall Los Angeles, CA 90012 213-621-2121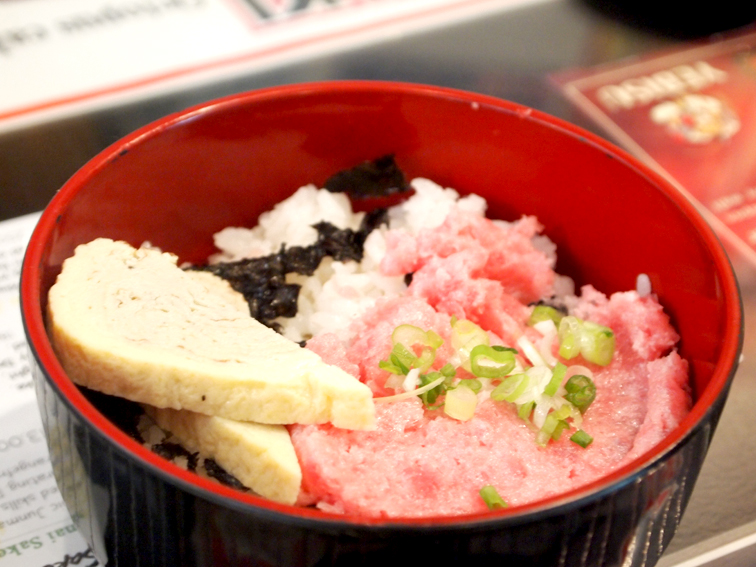 [Images by Tsz Chan]
Check out Tsz at http://www.gastrophoria.com/
---
---
---
MenuGem Featured Stories
•
Hundreds of Items
•
More Cards, More Clothes
•
Cards and Clothes
•
Card Breaks on MenuGem
•
Jeans and Masks
•
The MenuGem Standard Mask - Discover What's Next S02E01
•
Shop with Confidence
•
What You Need
•
Rest Assured: Hand Sanitizer, Masks and More
•
MenuGem in Illinois Times and on WMAY
•
New Products on MenuGem Springfield and The MenuGem Web Store
•
Introducing MenuGem Springfield!
•
We're Here for You
•
How to Earn Gems on MenuGem
•
Online Ordering in Chicago
•
Express Yourself
•
How to Set Up Online Ordering for Your Restaurant
•
Order from Baba Pita!
•
Beverly Hills, De-Mystified: Scarpetta
•
Tastes of Tokyo: Roku-Michi in Roppongi Hills
•
Post Up
•
Sushi Gen Stays Above the Cut
•
Rustic Italian Meets Hipster Chic at Reno Chicago
•
A Quick Bite at Firenze Osteria
•
Testarossa Winery is Serious About Its Soils
•
5 Years of Craft Los Angeles
•
Surf and Turf for Lunch at Wakasaya
•
Reforming Danishes at Amandine Patisserie
•
America's Playground
•
Soup Street
•
LA's Finest
•
City Sultan
•
Through the Fog
•
Osaka Soul
•
Pad Se Ew Showdown