Pad Se Ew Showdown
Thursday October 22, 2009 by Ryan Fernandez
We visited Thai restaurants in three world-class cities — New York, Chicago, and Los Angeles — to compare the staple Southeast Asian dish, pad see ew. How did each of the cities fare?
CHICAGO
MyThai -333 S. State St. - (312) 986-0999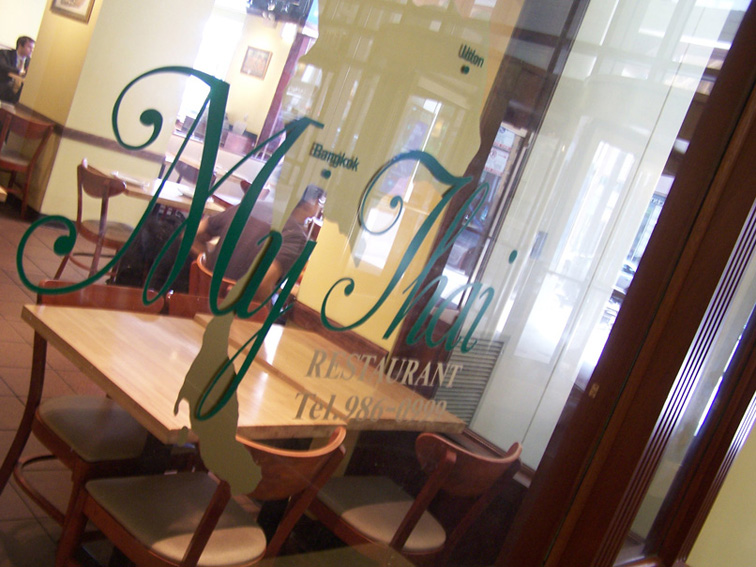 Tucked into a corner of the main building at the DePaul University Loop Campus, MyThai is a clean-cut, beautiful establishment with a location well-suited to serve the busy downtown Chicago lunch crowd.
The dining area is attractive and aesthetically pleasing. With windows making up the entire South wall of the restaurant, the dining area gets a good deal of sun, and patrons can take in a nice view of the passers-by on Van Buren St.
True to form for Chicago Thai food, the pad se ew here was a well-prepared dish, put together with good flavor balance, and was served within minutes.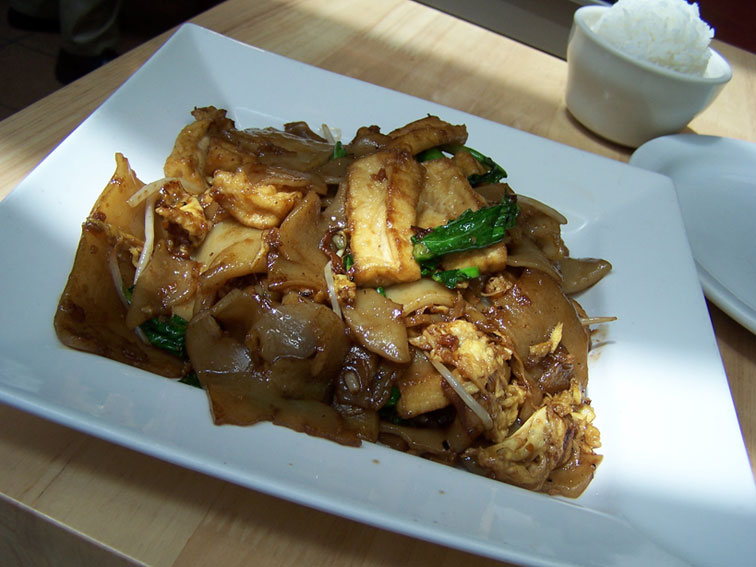 The noodles were wide, providing for a hearty bite. The dish could have used more greens, but the tofu was cooked well, and it even hinted at the consistency of chicken.
MyThai provides an impeccable combination of home-cooked flavor and big-city vibe.
NEW YORK
Sripraphai - 6413 39th Ave - Woodside - (718) 899-9599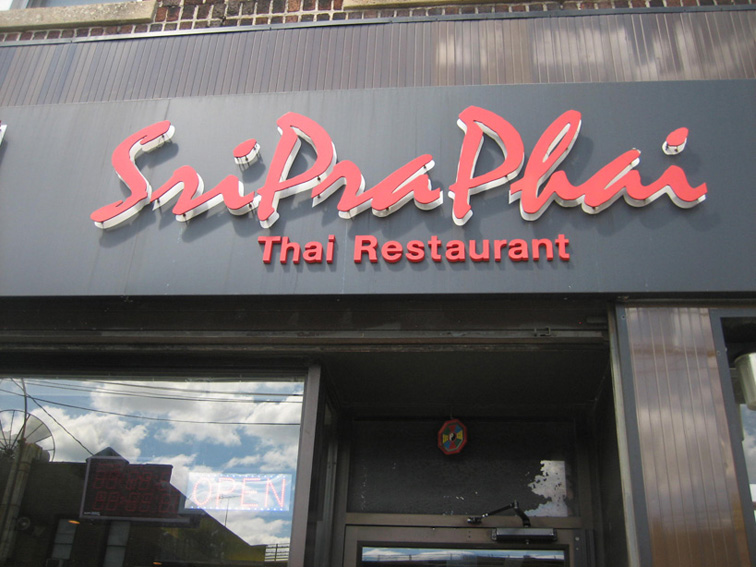 Nestled within the homey neighborhood of Woodside, Queens is Sripraphai, a popular venue that sports a beautiful inside dining area as well as an outside garden.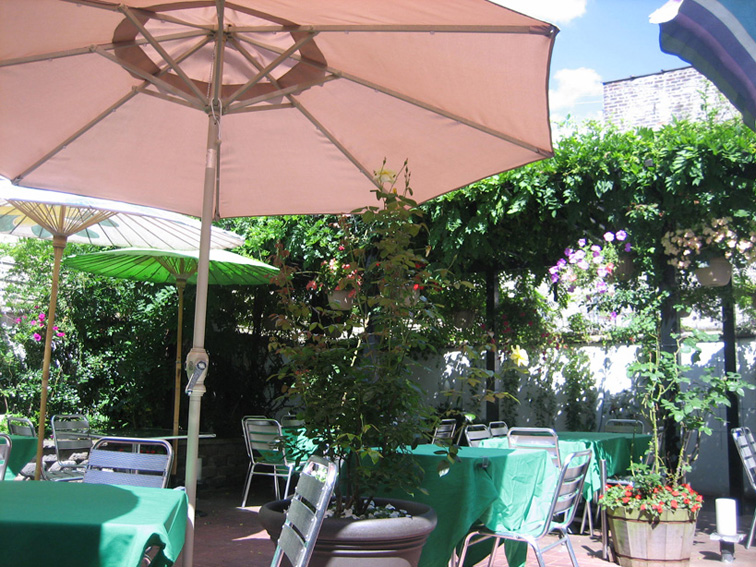 Sripraphai has an extensive menu and offers a wide selection of food. In fact, their menu is put together in a binder, complete with tabbed labels.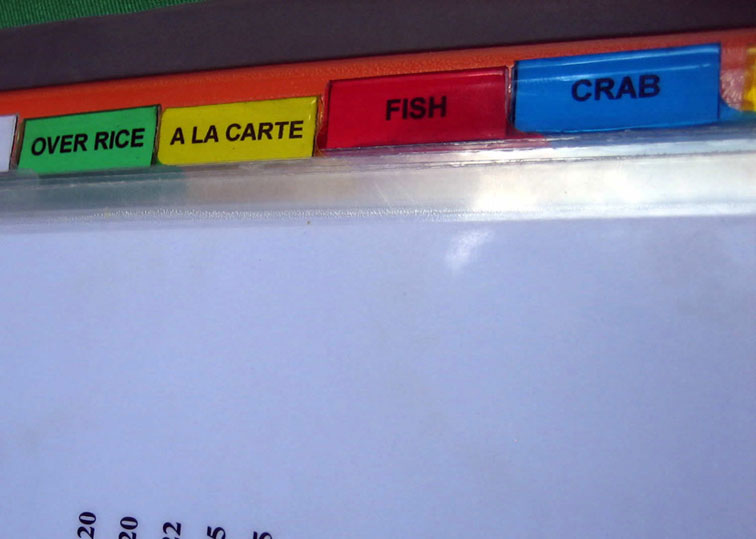 Although generous with the portions and the variety of the vegetables, I found that the pad se ew here lacked a certain kick.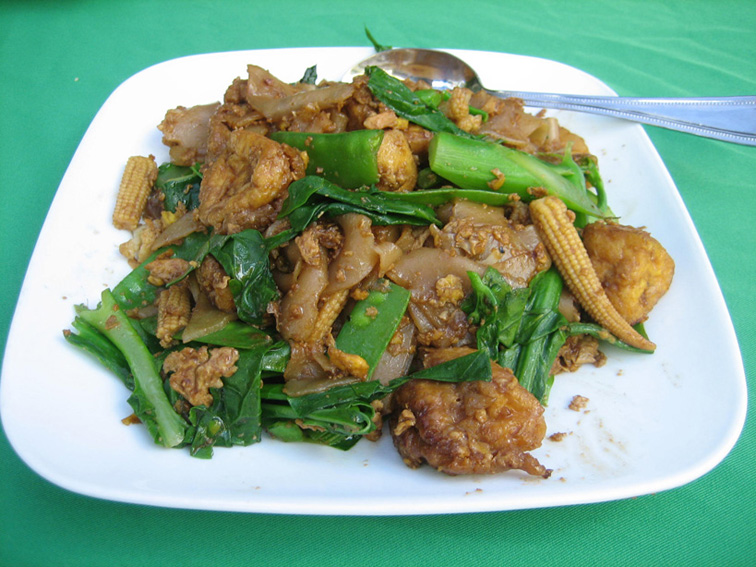 Each component in the dish was just a bit too big for a good bite. It seemed that all of the ingredients were there but there wasn't much harmony between them, leaving the experience uninteresting.
Sripraphai definitely scores points for its ambiance and clientele (a sort of family-and-young-and-urban mix), but in the specific category pad se ew, it does not rise to the top.
LOS ANGELES
Spicy BBQ - 5101 Santa Monica Blvd - (323) 663-4211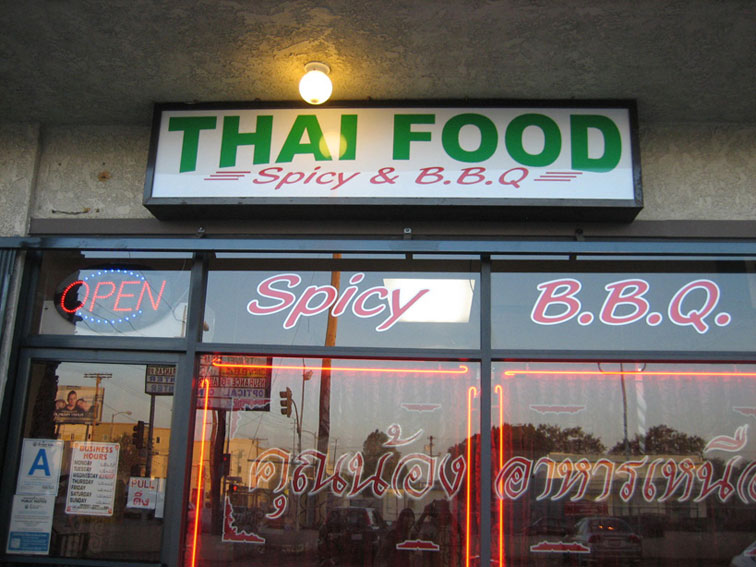 Located within the Little Armenia/Thai Town neighborhood of Los Angeles is Spicy BBQ. Judging by this place's name, the item to order here is probably the barbeque, but this is the pad se ew showdown after all, and I was there to sample their variation of it. I'll have to come back another time for the barbeque.
The dining room is minute, but comfortable. From the attentive service I could tell that the experience here is put together with a lot of care.
Adding a little punch to the decor are the Thailand posters underneath the glass tabletops.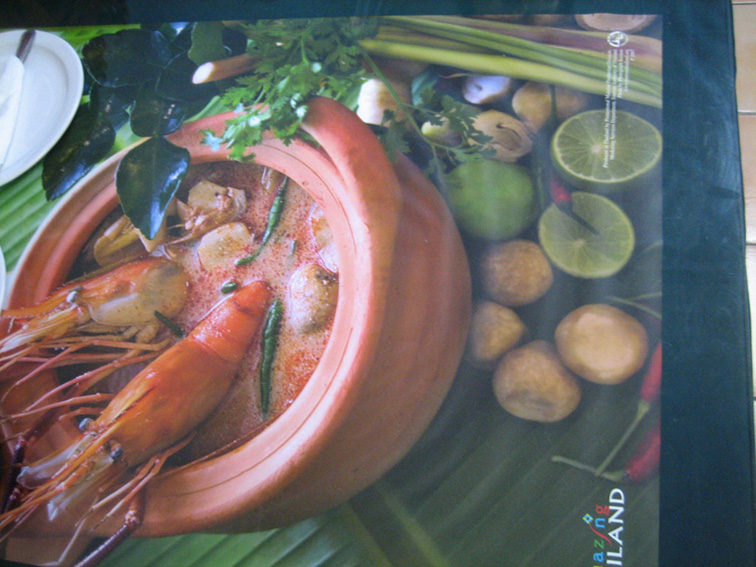 The pad se ew with tofu here was excellent. Initially I thought the noodles were thin, but somehow they still had a very wholesome feel. The broccoli was fresh and clean-tasting and the tofu had good consistency.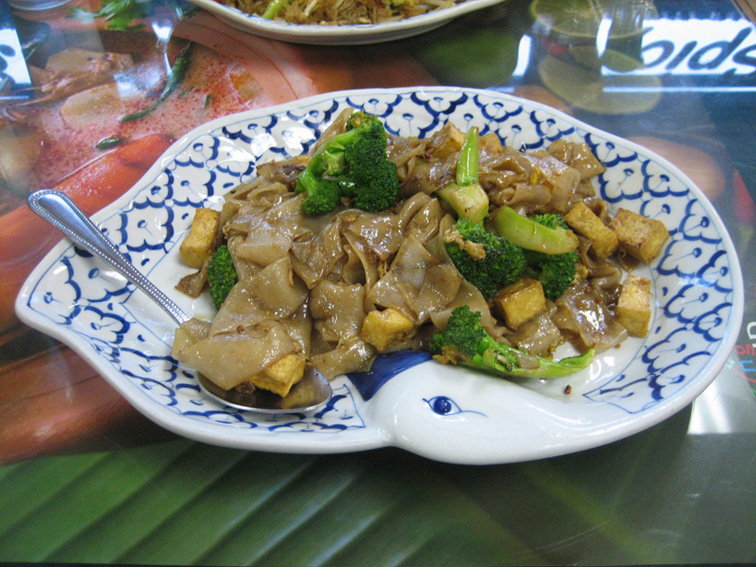 Spicy BBQ's great service and cozy, quiet atmosphere will definitely have me coming back here again.
It can be seen that we have many different interpretations of what is essentially a basic dish. Picking a winner involved taking different flavors into account, and so ranking these dishes was quite an objective process.
In a victory of quality over serving size, I must say that the dish served at Spicy BBQ in Los Angeles was the champion in this contest. It was cooked well, plated well, and its flavors were the most earnest of them all.
If there were a silver medal award, it would go to Chicago's MyThai. Customers are sure to find a well-rounded Thai dining experience both there and at New York's Sripraphai.
---
---
---
MenuGem Featured Stories
•
Hundreds of Items
•
More Cards, More Clothes
•
Cards and Clothes
•
Card Breaks on MenuGem
•
Jeans and Masks
•
The MenuGem Standard Mask - Discover What's Next S02E01
•
Shop with Confidence
•
What You Need
•
Rest Assured: Hand Sanitizer, Masks and More
•
MenuGem in Illinois Times and on WMAY
•
New Products on MenuGem Springfield and The MenuGem Web Store
•
Introducing MenuGem Springfield!
•
We're Here for You
•
How to Earn Gems on MenuGem
•
Online Ordering in Chicago
•
Express Yourself
•
How to Set Up Online Ordering for Your Restaurant
•
Order from Baba Pita!
•
Beverly Hills, De-Mystified: Scarpetta
•
Tastes of Tokyo: Roku-Michi in Roppongi Hills
•
Post Up
•
Sushi Gen Stays Above the Cut
•
Rustic Italian Meets Hipster Chic at Reno Chicago
•
A Quick Bite at Firenze Osteria
•
Testarossa Winery is Serious About Its Soils
•
5 Years of Craft Los Angeles
•
Surf and Turf for Lunch at Wakasaya
•
Reforming Danishes at Amandine Patisserie
•
America's Playground
•
Soup Street
•
LA's Finest
•
City Sultan
•
Through the Fog
•
Osaka Soul
•
Pad Se Ew Showdown