Osaka Soul
Sunday February 28, 2010 by Ryan Fernandez
Okonomiyaki, a dish best described as a Japanese-style omelette or pancake, is a very popular food in Japan's second-largest city, Osaka. There are many Okonomiyaki restaruants throughout the city and it is even referred to as "Osaka soul food". We stopped by Okonomi Yoshida to sample this distinctive regional fare.
Okonomi Yoshida - Akira Naka Building 1-8-22 Higashi-Shinsaibashi, Chuo-ku, Osaka - 06-6252-5009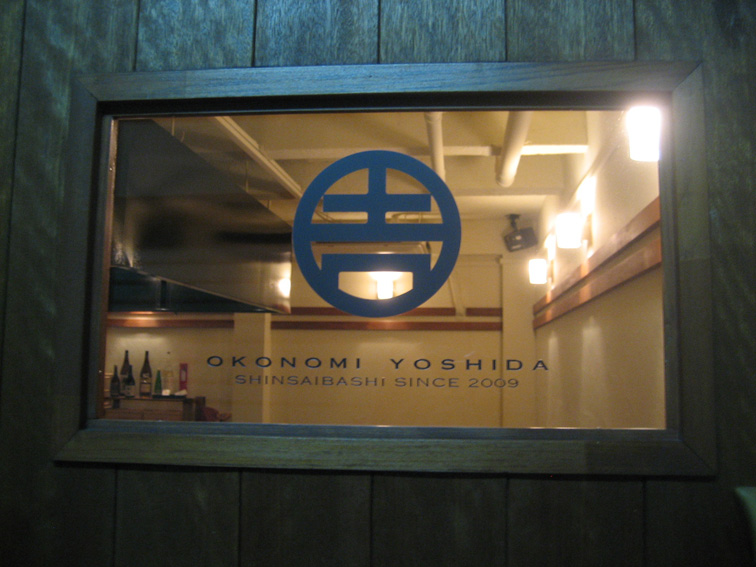 Okonomi Yoshida is located within Osaka's Shinsaibashi district, a popular shopping and entertainment destination. The area is comprised of narrow streets and many of the establishments are found in back-alley type settings.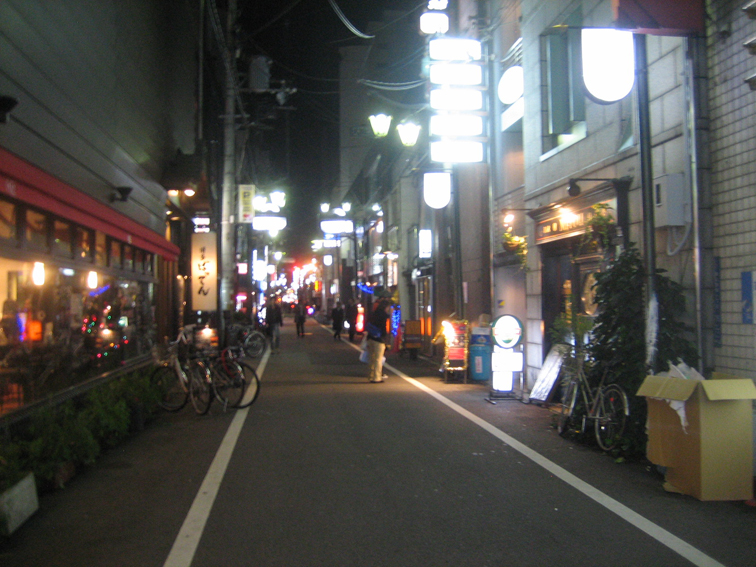 The scene inside Okonomi Yoshida consists of one U-shaped counter and teppan with total seating for about eighteen. Everyone sits facing the chefs in the middle.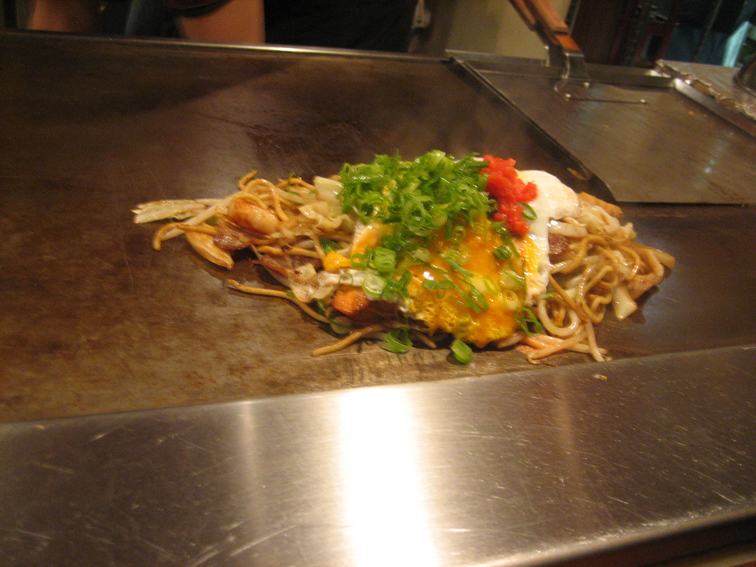 About five or six different dishes were cooked and served consecutively throughout the meal. These dishes included the standard okonomiyaki and also a variation served with udon noodles called modanyaki.
During my time in Japan I found that Japanese cooking in general, although consistently good, has a kind of blandness to it. The flavors are more suppressed, and the taste is grounded more in the food's quality. A taste of cleanliness is prominent in all foods and it is rare to find a dish that is overly spicy.
The same was true here at Okonomi Yoshida, though the okonomiyaki was the spiciest of the night's many courses. Fried on both sides, topped with spices and mayonnaise, and filled with pork, cabbage and other vegetables, their okonomiyaki is a dish with a splendid blend of textures.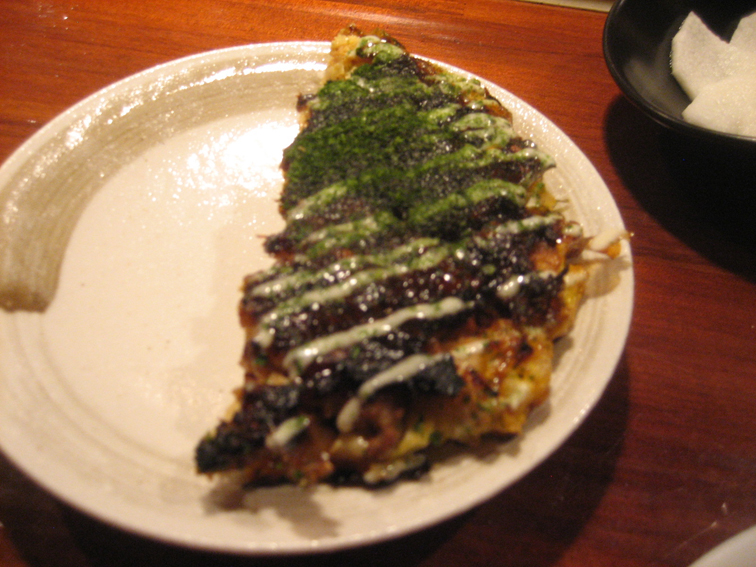 The variant modanyaki, cooked with noodles and a mix of shrimp, bacon, green onion, bell pepers and fried egg, also contained quite a bit of enoki mushrooms — perhaps too much. Their overbearing presence took away from the rest of the dish and in the end I just found myself hunting for the squares of bacon.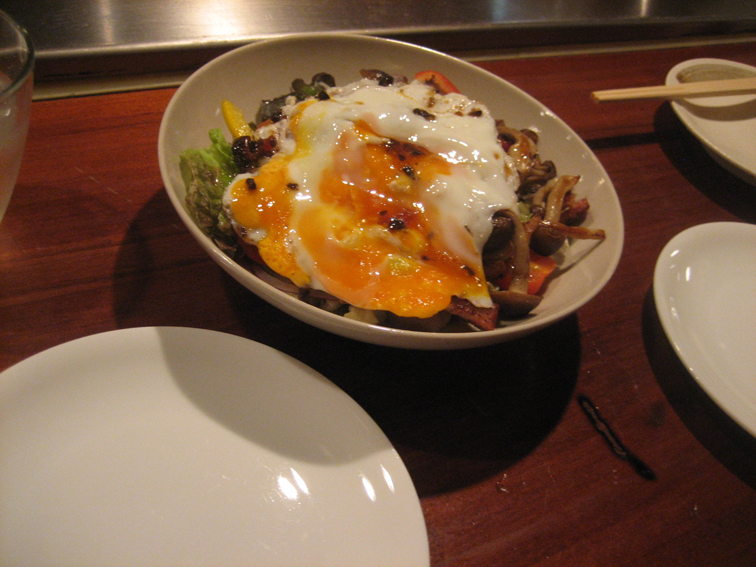 Those enoki mushrooms, and also a heaping dose of enokitake mushrooms, were found in most of the other dishes of the night which kind of put a damper on the whole experience. However, the regional trademark okonomiyaki was great here and all of the food was fresh, making for a truly unique time at Okonomi Yoshida.
---
---
---
MenuGem Featured Stories
•
Hundreds of Items
•
More Cards, More Clothes
•
Cards and Clothes
•
Card Breaks on MenuGem
•
Jeans and Masks
•
The MenuGem Standard Mask - Discover What's Next S02E01
•
Shop with Confidence
•
What You Need
•
Rest Assured: Hand Sanitizer, Masks and More
•
MenuGem in Illinois Times and on WMAY
•
New Products on MenuGem Springfield and The MenuGem Web Store
•
Introducing MenuGem Springfield!
•
We're Here for You
•
How to Earn Gems on MenuGem
•
Online Ordering in Chicago
•
Express Yourself
•
How to Set Up Online Ordering for Your Restaurant
•
Order from Baba Pita!
•
Beverly Hills, De-Mystified: Scarpetta
•
Tastes of Tokyo: Roku-Michi in Roppongi Hills
•
Post Up
•
Sushi Gen Stays Above the Cut
•
Rustic Italian Meets Hipster Chic at Reno Chicago
•
A Quick Bite at Firenze Osteria
•
Testarossa Winery is Serious About Its Soils
•
5 Years of Craft Los Angeles
•
Surf and Turf for Lunch at Wakasaya
•
Reforming Danishes at Amandine Patisserie
•
America's Playground
•
Soup Street
•
LA's Finest
•
City Sultan
•
Through the Fog
•
Osaka Soul
•
Pad Se Ew Showdown