Tastes of Tokyo: Roku-Michi in Roppongi Hills
Thursday March 6, 2014 by Ryan Fernandez
The Roppongi Hills district of Tokyo is filled with world-famous destinations such as the Mori Art Museum and the Tokyo Observatory. At the B2F floor of the building that houses these establishments is Roku-Michi, proudly serving food and drink, as their sign proclaims.
Roku-Michi E: Tokyo, Minato-ku, Roppongi 6-4-1, Roppongi Hills Metro Hat B2F
I was seated quickly. The place was busy and the clientele consisted of business people on their lunch break. I ordered the chicken lunch, which included many aspects of your standard Japanese fare, such as a salad and pickled vegetables.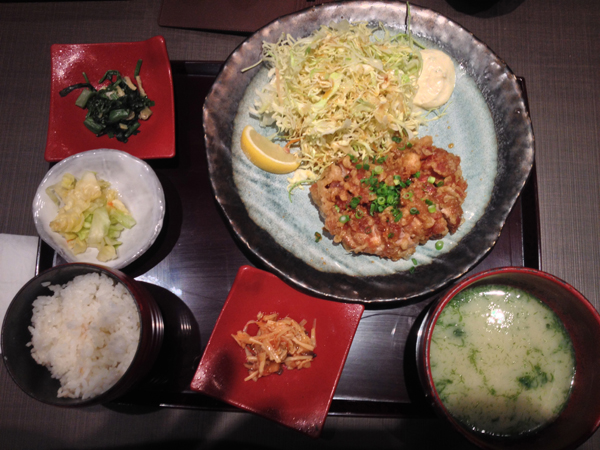 The main course was your straight-ahead dark meat fried chicken and slaw.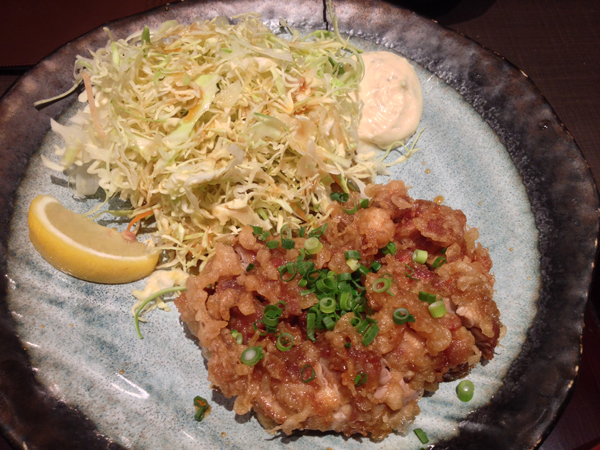 The star of the meal was undoubtedly the soup, creamy and served hot with bits of seaweed.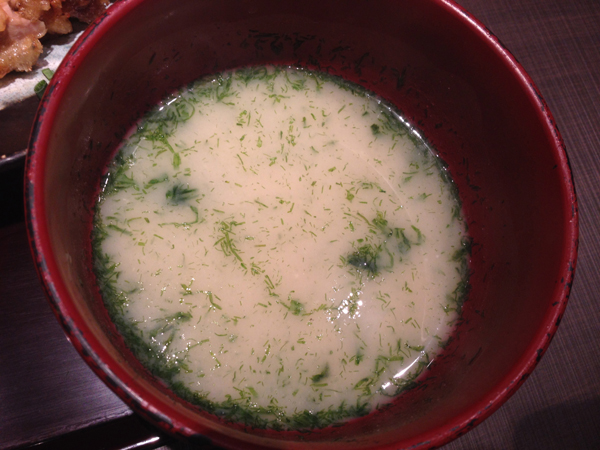 Next time you're in Roppongi, check out Roku-Michi for their tasty lunch specials.
---
---
---
MenuGem Featured Stories
•
Hundreds of Items
•
More Cards, More Clothes
•
Cards and Clothes
•
Card Breaks on MenuGem
•
Jeans and Masks
•
The MenuGem Standard Mask - Discover What's Next S02E01
•
Shop with Confidence
•
What You Need
•
Rest Assured: Hand Sanitizer, Masks and More
•
MenuGem in Illinois Times and on WMAY
•
New Products on MenuGem Springfield and The MenuGem Web Store
•
Introducing MenuGem Springfield!
•
We're Here for You
•
How to Earn Gems on MenuGem
•
Online Ordering in Chicago
•
Express Yourself
•
How to Set Up Online Ordering for Your Restaurant
•
Order from Baba Pita!
•
Beverly Hills, De-Mystified: Scarpetta
•
Tastes of Tokyo: Roku-Michi in Roppongi Hills
•
Post Up
•
Sushi Gen Stays Above the Cut
•
Rustic Italian Meets Hipster Chic at Reno Chicago
•
A Quick Bite at Firenze Osteria
•
Testarossa Winery is Serious About Its Soils
•
5 Years of Craft Los Angeles
•
Surf and Turf for Lunch at Wakasaya
•
Reforming Danishes at Amandine Patisserie
•
America's Playground
•
Soup Street
•
LA's Finest
•
City Sultan
•
Through the Fog
•
Osaka Soul
•
Pad Se Ew Showdown